Sold Out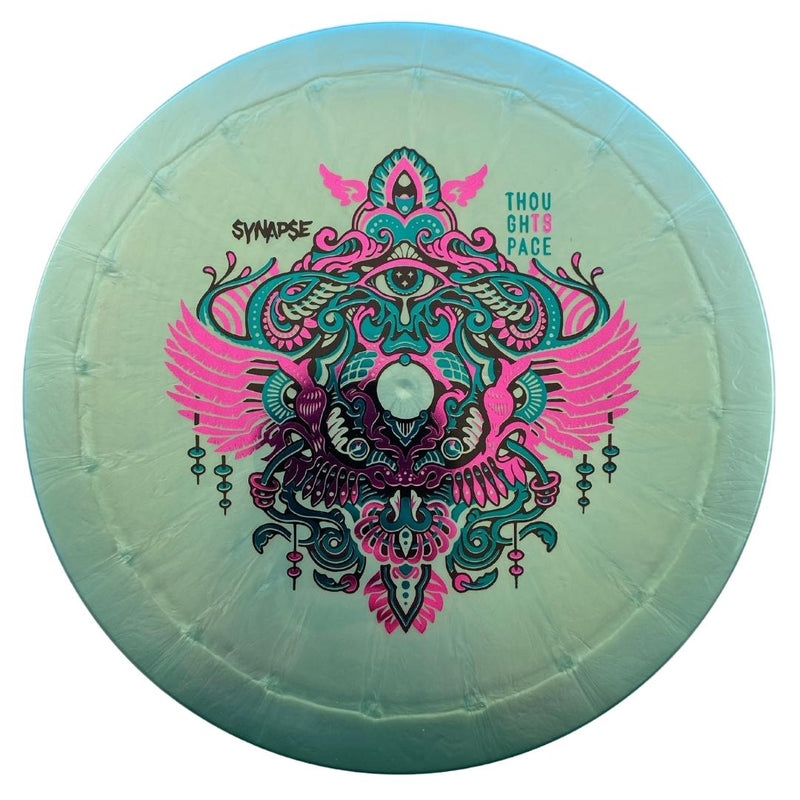 Thought Space Athletics Synapse - Ethereal
Tax included. Shipping calculated at checkout.
12

Speed

5

Glide

-1.5

Turn

3

Fade
The Synapse is our first offering in our 12-speed distance driver category.
Striking a harmonious balance between distance and accuracy, the Synapse represents Thought Space Athletics' flagship entry into the true (pro) distance driver slot. Stable enough to handle big arm speed or stiff headwind, with just a hint of high-speed turn; the Synapse finds its equilibrium as the reliably stable long-bomber in your bag. Bridging the gap between the Animus and your favorite overstable high speed driver, the Synapse is a staple in any bag.
Behind the design:
Our "Journey" design pulls inspiration of the odyssey of our lives and how we grow as individuals no matter where that journey takes us. Mushrooms symbolically represent rebirth and transformation which we included in the eerie alien landscape of the composition. Our figure is walking to towards a intricate mandala horizon, signifying the quest end of Zen.
Behind the design:
Our "Dragon" design offers a more abstract take on a beast of faces. Inspired by the Art Nuveau movements use of organic shapes, curvatures and movement. The "Dragon" design will leave you constantly finding new faces of creatures within the concept.
Behind the design:
Our "Grow your mind" concept is about cultivating your imagination. To allow yourself to daydream and get lost in thought. Let go of self doubt because creativity is the catalyst to progression.
Speed: 12 Glide: 5 Turn: -1.5 Fade: 3
Plastic Types:
Thought Space Athletics disc are made by MVP.
Ethos - Similar to Proton plastic
Aura - Similar to Neutron plastic
Ethereal - Similar to Plasma plastic