Sold Out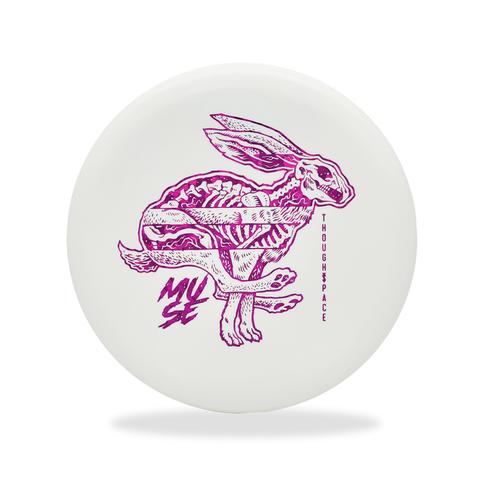 Thought Space Athletics Muse Putt & Approach
Tax included. Shipping calculated at checkout.
3

Speed

3

Glide

0

Turn

2

Fade
The Muse has arrived!
The Muse is a stable beadless putter that fills the hand comfortably being not too shallow and not too deep. Spin putters will love its straight flight and push putters will love its dependable stability.
Our new Nerve Plastic is blend of polymers that offers a great grip as well as durability but still offers a fair amount of flexibility.
Behind the "Kinetic Hare" Stamp
With the first official release of our Nerve plastic we wanted a design that showcased the thought of Kinetic Energy. In folklore, the Hare has often represented the idea of quickness, speed and agility. In that, We decided to break down the hare anatomically of sorts to show the effect of thought into action.
Stamps may vary to pictures
Speed: 3 Glide: 3 Turn: 0 Fade: 2
Muse Dimensions:
Diameter: 21.2 cm
Height: 2.0 cm
Rim Depth: 1.6 cm
Rim Width: 1.2 cm
Max Weight: 176.00 g
Additional Information:
Speed: 3.0
Glide: 3.0
Turn: 0.0
Fade: 2.0
Primary Use: Putt & Approach
Plastic Types:
Thought Space Athletics disc are made by MVP.
Ethos - Similar to Proton plastic
Aura - Similar to Neutron plastic
Ethereal - Similar to Plasma plastic
Stability: Very Overstable
Recommended Skill Level: Everyone
Plastic grade(s): Midgrade
Beadless