Sold Out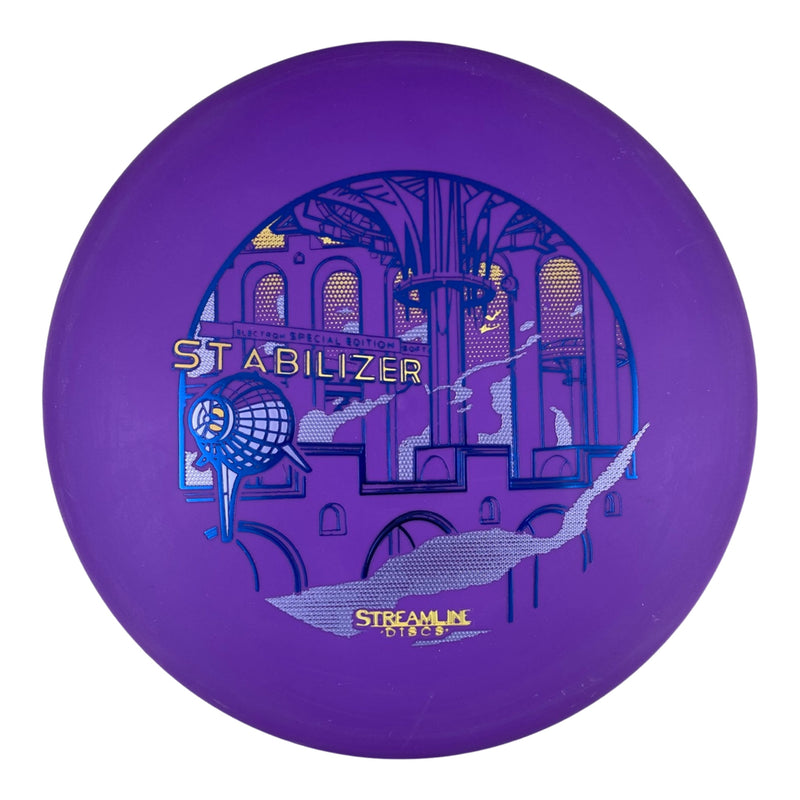 Streamline Stabilizer - Electron Special Edition
Tax included. Shipping calculated at checkout.
3

Speed

3.5

Glide

0

Turn

3

Fade
Pickup available at Hamilton Hill Warehouse usually ready in 24 hours
It was right here all along, an entire civilization floating above me! What secrets does it hold? What society will I find? With my stabilized flying machine, there's no place on Earth that will be hidden from me! A stunning vision of hidden civilization in the sky, brought to us by none other than Mike Inscho! The sense of wonder and exploration are extremely present here, and they combine very well with the flight of the Electron Stabilizer SE itself! Wherever you go, you can fly there confidently with the dependably overstable Electron Stabilizer SE in your bag. Reach your destination with certainty thanks to the Electron Stabilizer SE!
The Stabilizer is a new overstable putter from Streamline Discs, making its debut in Streamline Neutron and Cosmic Neutron plastic. This is the second putter from Streamline Discs and is the overstable compliment to the Streamline Pilot. The Stabilizer has a similar hand feel and depth as the Neutron Pilot, but with a slightly raised shoulder and more pointed nose that produces a flatter and more stable putter. The Stabilizers defining flight characteristic is straight flights with minimal turn, into a strong finishing fade for point and shoot accuracy on the approach.


Off the tee, the Neutron Stabilizer will produce straight to overstable flights that can handle windy situations, good for power shots and forehand styles
On the approach, the Stabilizers stable flight profile makes this an accurate point and shoot putter with limited risk of over glide
On the green, the Neutron Stabilizer is a straight flying putter with a touch more stability than the pilot, giving you more control putting in gusty conditions
Speed: 3 Glide: 3.5 Turn: 0 Fade: 3

FLIGHT PATH POWERED BY INBOUNDS

Stabilizer Dimensions:
Diameter: 21.2 cm
Height: 1.8 cm
Rim Depth: 1.4 cm
Rim Width: 1.1 cm
Max Weight: 176.00 g

Additional Information:
Speed: 3.0
Glide: 4.0
Turn: 0.0
Fade: 3.0
Primary Use: Putt & Approach
Stability: Overstable
Recommended Skill Level: Everyone
Plastic grade(s): Basic (Cheapest), Midgrade, Premium
Beadless
Plastic Types:
Neutron

Our Most Popular Material

Flagship blend offering a premium look and feel

Widest selection of bright opaque colours

Shares great durability characteristics of Proton

Easy-to-find colours in any given terrain

Cosmic Neutron

Premium Quality Neutron with Cosmic Swirl

Premium colour enhanced Neutron blend

Plethora of bright colour swirls

Shares durability with Neutron and Proton

Unique colour blends are great for custom stamping

Proton

Our Premium Look and Durability Material

High durability for a long consistent life

Designed to withstand the roughest conditions

Transparent candy colours

Also available in soft flexibility for putters

Plasma

Advanced Disc Golf Polymer

Metallic sheen on core plastic

Semi-gummy, grippy flex polymer

Highly durable premium blend

"Colour-shift" tones in select colour options

Electron

Our High-Tech Baseline Material

Tactile boutique blends for superb grip

Designed to wear slowly with use

Added glide and neutral flight with wear

Also available in soft flexibility for putters

Cosmic Electron

Cosmic Electron Plastic

The same High-Tech Baseline Material found in Electron with unique Cosmic Ray patterns.

Cosmic Ray patterns with multi-tone colours

Tactile boutique blends for superb grip

Added glide and neutral flight with wear

Available in Soft, Medium, and Firm flexibility for putters