Sold Out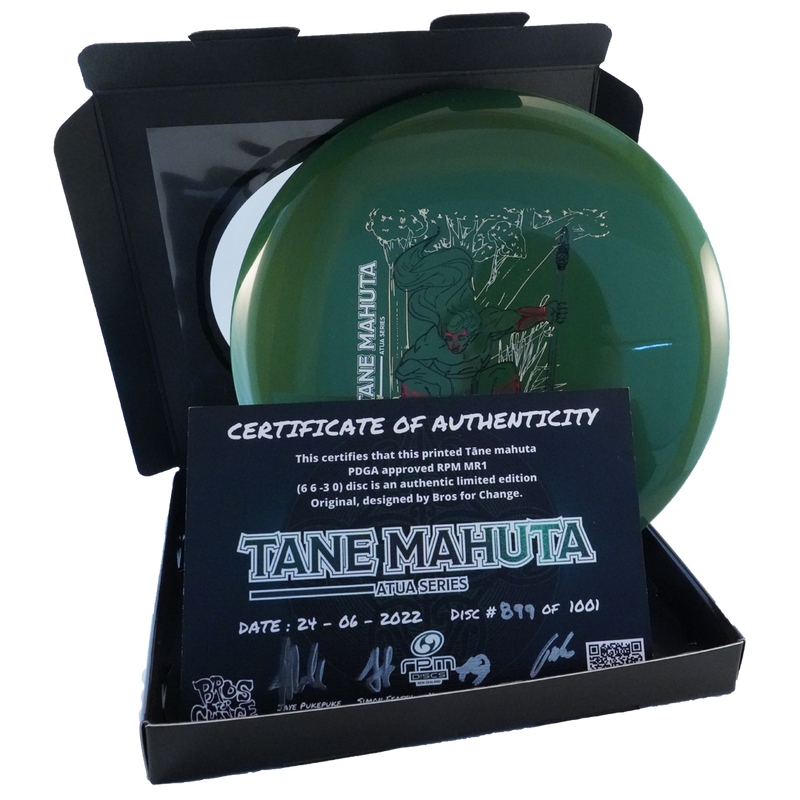 RPM Tāne Mahuta Special Edition Mid Range
Tax included. Shipping calculated at checkout.
5

Speed

6

Glide

-1

Turn

0

Fade
This is the first disc of the Bros for Change x RPM Discs Atua collectors series. Each disc comes boxed with a certificate of authenticity.
Limited stock available, Only 1001 of these discs made.
The idea of having an Atua (Māori Gods) series of discs came about when practicing throwing discs and trying to connect to the disc. As a hunter and gatherer in Aotearoa (New Zealand) when I hunt or dive, I connect to the land or the sea and it brings peace and a tranquil sense of belonging allowing me to reset. I wanted to connect to the disc and visualize its path of travel slowing it down and almost pausing everything around it. This was the catalyst for connecting the discs to the Atua. We had to think of what Atua was appropriate for the disc which is where Tāne Mahuta came in. The disc itself was called the Pīwakawaka (fantail) that you will find chatting to you as it passes through the forest. The colours of the disc are found in the forest. Tāne himself in Māori mythology separated his mother and father to bring light into this world and now also bringing light of our people to you using this story on the disc. If you scan the QR code and you can discover more of Tāne. Perhaps its safe to say that no other Atua is more aspired and revered than Tāne. His relevance to us has remained throughout the generations and his character continues to inspire us in our daily lives. All the more, we need to pass on the stories of his unmatched persistence and his level-headed disposition. His persistence and determination is unmatched, as it emanates in the narrative of how he pushed his parents apart. The story of his bravery and boldness inspires us, especially in the story of how he acquired the three baskets of knowledge in spite of all the challenges and obstacles. He inspires us to maintain harmonious relationships amidst differences in order to achieve a common goal.
Jaye Pukepuke
Speed: 5 Glide: 6 Turn: -1 Fade: 0
The making of Tāne Mahuta disc 1 of the Atua series of collectors discs. https://www.facebook.com/rpmdiscsnz/videos/389082683339925
Māori blessing of this taonga https://www.facebook.com/rpmdiscsnz/videos/387126893584749
Some information about the Atua series Pīwakawaka disc.
The Pīwakawaka is a reliable straight to under stable disc, that will easily hold a line and with it's high glide is sneaky long.
Model

#: MR1
PDGA Approved: Yes – as the MR1
Diameter: 216mm
Weight: 155-178g
Speed: 6
Glide: 6
Turn: -3
Fade: 0
Plastic types: Atomic
Pīwakawaka is the Māori name for this energetic bird native to New Zealand, also called the Fantail. Known for its friendly 'cheet cheet' call and energetic flying antics, the aptly named fantail is one of the most common and widely distributed native birds on the New Zealand mainland.
The Pīwakawaka or fantail is one of the few native bird species in New Zealand that has been able to adapt to an environment greatly altered by humans. Originally a bird of open native forests and scrub, it is now also found in exotic plantation forests, in orchards and in gardens. At times, fantails may appear far from any large stands of shrubs or trees, and it has an altitudinal range that extends from sea level to the snow line.
Plastic Types:
| | |
| --- | --- |
| Strata | RPM's base plastic which is opaque, tacky and medium stiffness. This comes in a range of colours. |
| Cosmic | RPM Premium plastic is a tough grippy semi translucent plastic that comes in a range of stiffness and with a variety of colours and effects. |
| Atomic | RPM Premium plastic is a tough grippy opaque plastic that comes in a range of stiffness and with a variety of colours and effects. |
| Magma | RPM Premium plastic is a rubbery softer feeling plastic silky and grippy in limited range of effects |