Sold Out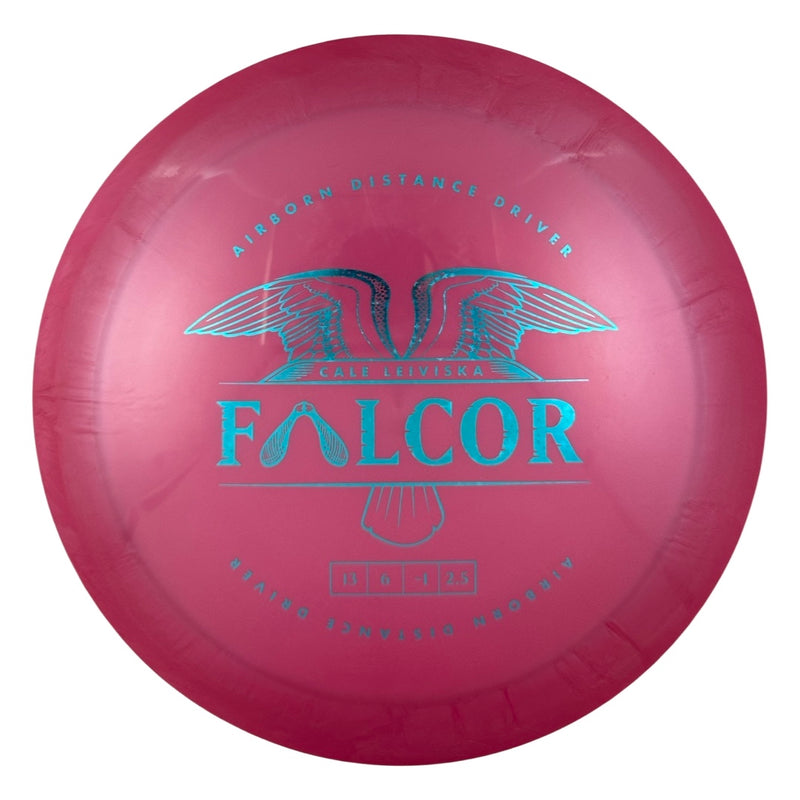 Prodigy Airborn - 500 Falcor Cale Leviska
Tax included. Shipping calculated at checkout.
13

Speed

6

Glide

-1.0

Turn

2.5

Fade
Pickup available at Hamilton Hill Warehouse usually ready in 24 hours
The Falcor is our collaboration with Cale Leiviska. It is an overstable driver that also packs in a lot of glide. It's a disc players will be able to lean on, and players with higher arm speeds will be able to get a max distance flight out of it.
Diameter: 21.1cm
Height: 1cm
Rim Depth: 1.2cm
Rim Width: 2.3cm
Min Weight: 170g
Max Weight: 175g
Stability: Overstable
Speed: 13 Glide: 6 Turn: -1.0 Fade: 2.5
Plastic Types:
| | |
| --- | --- |
| 200 | 200 Plastic is extremely versatile. It's great for entry level players looking to get into the game, as well as advanced & professional players who love to fine tune their discs by working them in just the way they like. The feel of this plastic brings a new dimension to our line-up.  |
| 300 | 300 Plastic is a special blend of materials that is durable enough to take solid impact but has the ability to be broken in over time. Our 300 Plastic has been developed for optimum feel and grip for Putters and Midrange discs. |
| 350G | 350G Plastic is a firmer blend of the 350 Plastic for those who like the grippy properties but in a stiffer plastic. The 350G Plastic is the product of 16 months of research and development. Its unique tacky feel and increased stiffness puts it ahead of all base-line resin available on the market today. It was developed in a collaborative effort by World Champions, Major Champions and National Tour Champions looking for discs that will break in perfectly over time. The 350G Plastic retains grip even in wet conditions. |
| 400 | 400 Plastic is a premium blend of material that is extremely durable. The unique blend of plastics feels as good as it looks and will be able to be broken in over time. This tour quality plastic gives the thrower impeccable grip, even when it is wet. |
| 400G | 400G Plastic is the regular 400 Plastic with a shot of adrenaline. It is the base 400 plastic mixed with another resin that gives the plastic a slightly different feel than the base 400 Plastic. The additive also makes the disc more durable and requires more time to break it in. |
| 500 | 500 Plastic has been in development for quite some time, formulated and based on carefully considered player feedback. It has a stiffer, less gummy feel than 400 Plastic. This provides an extremely confident grip on the flight plate, balancing just the right amount of flex and firmness, with a very solid feeling rim that we believe disc golfers are going to love. 500 Plastic has a uniquely pearlescent finish, unlike anything else in the Prodigy Disc plastic line. |
| 750 | 750 Plastic is similar in grip and texture to our 400 series but with a firmer feel. This high-tech blend of premium resins will provide outstanding performance and predictability. This plastic is extremely durable. |
| | |
| --- | --- |
| DuraFlex | A good premium plastic is durable enough to stand the test of time and the elements while still providing excellent grip. We've hit all those marks with our DuraFlex blend that will continue to feel nice and grippy whether it's the first flight or long after the disc has slowly broken in. |
| BaseGrip | Our BaseGrip plastic offers a tactile feel for a sure grip every time you reach for it. It finds a great balance between stiffness and the ability to wear-in to perfection. BaseGrip plastic provides a cost-effective option without sacrificing on quality and performance in all weather conditions. |