Sold Out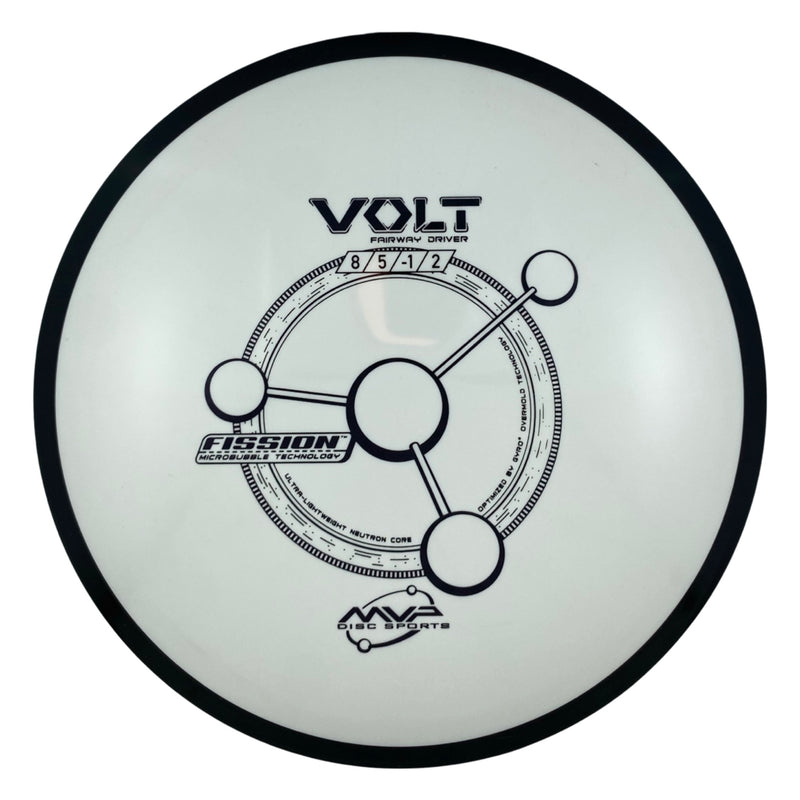 MVP Volt - Fission
Tax included. Shipping calculated at checkout.
8

Speed

5

Glide

-0.5

Turn

2

Fade
The Volt is a slightly overstable fairway driver.

The Volt is geared for long, accurate placement shots. The Volt can hold a long straight line and with a solid, forward penetrating fade. Reach for the Volt when accuracy is needed on long, tight fairways.

Speed: 8 Glide: 5 Turn: -0.5 Fade: 2

The Volt's defining flight characteristics include a subtle turn and a reliable fade.
For average throwers and tailwinds, the Volt will resist turn. High-power throws and headwinds will activate the small turnover phase of flight, gaining distance and lateral movement.

The Volt's fade is designed to terminate turnovers in a flat landing or better, and to range those straight gut shots at which the Volt excels.
With its workable stability and power-responsive flight, the Volt is most players' best option for their core long driver.
MVP Plastic Types:
Neutron

Our Most Popular Material

Flagship blend offering a premium look and feel

Widest selection of bright opaque colours

Shares great durability characteristics of Proton

Easy-to-find colours in any given terrain

Cosmic Neutron

Premium Quality Neutron with Cosmic Swirl

Premium colour enhanced Neutron blend

Plethora of bright colour swirls

Shares durability with Neutron and Proton

Unique colour blends are great for custom stamping

R2 Neutron

Our Eco-Conscious Recycled Material

Premium look and feel of MVP Neutron

Recycled gray through black swirls

Same great durability of MVP Neutron

Eco-Conscious Recycled Materials

MVP Disc Sports is ready to proudly introduce its recycled plastic line – R2 Neutron! R2 Neutron is MVP's first step towards making disc golf a more reusable and environmentally sustainable sport, and we couldn't be prouder of it! Replicating the look and feel of classic Neutron, R2 Neutron – as a combination of many colours of Neutron plastic – will only be available in black cores with white rims (to differentiate from the classic MVP lineup). R2 Neutron discs will fly the same as their Neutron counterparts, but with the benefit of being more eco friendly. Do your part for the environment, and give R2 Neutron discs a try

Proton

Our Premium Look and Durability Material

High durability for a long consistent life

Designed to withstand the roughest conditions

Transparent candy colours

Also available in soft flexibility for putters

Plasma

Advanced Disc Golf Polymer

Metallic sheen on core plastic

Semi-gummy, grippy flex polymer

Highly durable premium blend

"Colour-shift" tones in select colour options

Eclipse

Our Premium Glow Updated!

Glow CORE 2.0 Ultra-bright

Alternate Flight to Premium Plastics

Designed for visibility day or night

High durability for a long consistent life

Fission

Ultra-Lightweight Neutron Core

Fission™ Microbubble Technology produces an ultralight core with evenly distributed and imperceptible weight reduction microbubbles. The ultralight core allows an even higher GYRO® overmold density relative to the core, yet still remaining in the lighter weight classes — 135g to 165g in the Photon.




This produces an entirely new type of lightweight disc never before seen in the sport, and beyond the capability of any other manufacturer. Weight distribution, stability, and durability of prior "bubble" discs are all improved upon by Fission. Skeptics of prior light or bubble plastics are in for a surprise, as Fission brings advanced disc physics and true high-tech molding into the lightweight plastics arena.

Ultra-lightweight core for added GYRO®

Imperceptible micro-bubbles

Improved durability over competition

Light throwing weight with substantial feel

Electron

Our High-Tech Baseline Material

Tactile boutique blends for superb grip

Designed to wear slowly with use

Added glide and neutral flight with wear

Also available in soft flexibility for putters

Cosmic Electron

Cosmic Electron Plastic

The same High-Tech Baseline Material found in Electron with unique Cosmic Ray patterns.

Cosmic Ray patterns with multi-tone colours

Tactile boutique blends for superb grip

Added glide and neutral flight with wear

Available in Soft, Medium, and Firm flexibility for putters