Sold Out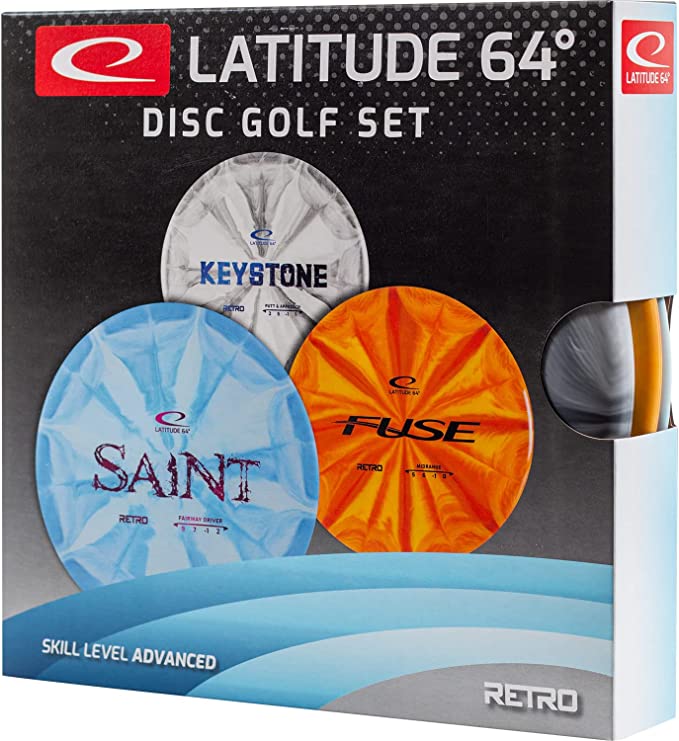 Latitude 64 Advance Starter Set
Tax included. Shipping calculated at checkout.
Pickup available at Hamilton Hill Warehouse usually ready in 24 hours
Regulation weight (170g-172g) ideal for 16 years and older.
THE ADVANCED RETRO BURST DISC GOLF STARTER SET from Latitude 64 comes with everything a new disc golfer needs to play disc golf - a putter, a midrange, and a driver
THREE OF THE MOST POPULAR discs from Latitude 64 included

ABOUT THE RETRO BURST SAINT: Saint is a highly praised control driver - both among amateurs and pros. When you need a disc with good distance and perfect accuracy the Saint will deliver. Saint will be a straight shooter for drives up to 350 ft and has excellent glide. Saint also has a big brother - the slightly more stable Saint Pro

ABOUT THE RETRO BURST FUSE: Fuse is the most versatile midrange driver we have ever made. Period. Co-designed with our pro Jesper Lundmark, it has a stable and predictable flight path up to 300ft, and will hold long anhyzer curves with minimal fade at the end

ABOUT THE RETRO BURST PURE: The Pure is a modern classic in the putt and approach department. The disc was co-designed with Jesper Lundmark and features a comfortable grip and a medium deep rim, with minimum fade for the ultimate putting experience. Left, straight or right; it will hold any line on your approach shots. Elevate your game around the basket with the Pure
Plastic:Retro Burst. Color & Foils: Will vary. Weights: 170g+
Note. Burst patterns are unique for each individual disc, and may differ from the sample images.