Sold Out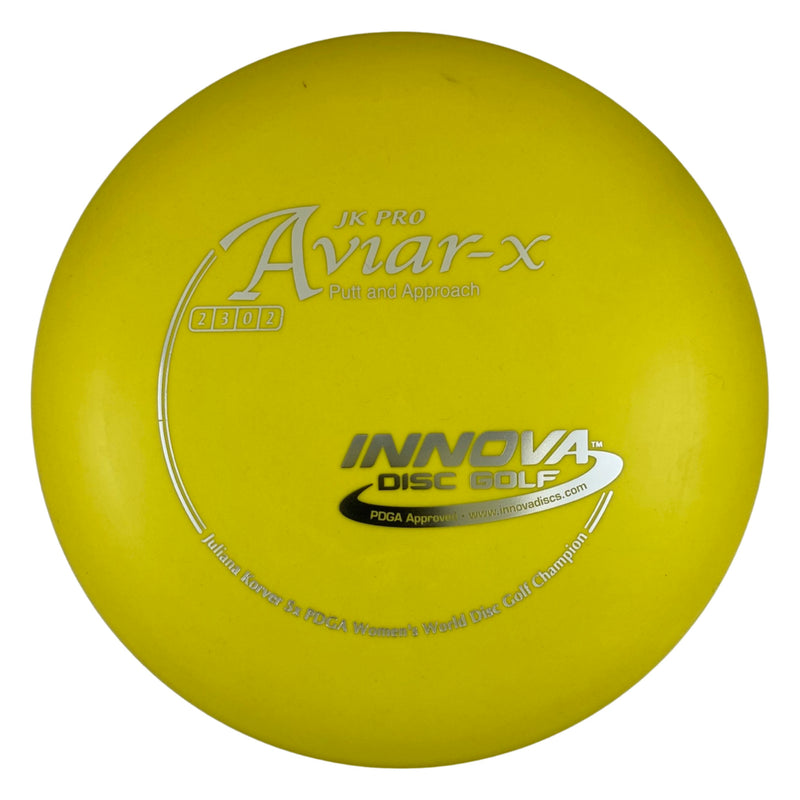 Innova Aviar X - JK Pro
Tax included. Shipping calculated at checkout.
2

Speed

3

Glide

0

Turn

2

Fade
Pickup available at Hamilton Hill Warehouse usually ready in 24 hours
JK (Juliana Korver) Aviar is made from the driver mold in a special blend of durable Pro-line Plastic that is more flexible and grippier than the other Aviar models. It has the same flight characteristics as the KC Aviar. Its softer plastic is better in colder climates and for those who have dry hands and require a tackier grip.
Best Choice for: Inside putter, Accurate approaches, Beginners
Made from the Aviar driver mold. It is more flexible and grippier than other Aviar models. Like all Aviars, it is perfect for driving, approaching and putting.
Speed: 2 Glide: 3 Turn: 0 Fade: 2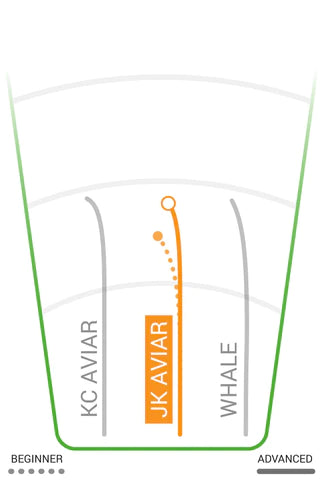 Plastic Types:
Star

Our Star line is created with a special blend of grippy, resilient polymers. Star plastic offers the same outstanding durability of our regular Champion plastic, plus improved grip like our Pro plastic. Star discs have the same flight characteristics as Champion discs, but are slightly less firm. High performance, longevity, and superior grip make Innova Star line discs a great choice for your game. Many Star line discs are available for custom hot stamping.




Benefits:

Provides predictable performance

Long-lasting durability even on wooded or rugged courses

Good all-weather grip

Ideal for those who like the durability of Champion plastic with the superior grip of Pro plastic

Retains flight characteristics longer than DX or Pro Plastics

Best plastic for use with the INNColor process

Most models available for Custom Hot-Stamping

GStar

GStar is a blend of Star that adds flexibility and even more grip. GStar is opaque like Star, but features a pearlescent sheen. Their allure is only surpassed by their beautiful flight. GStar discs have a smooth, gradual transition in flight and the same durability as our Star line. For cold weather play the flexibility and grip of GStar cannot be beaten, and even when the weather warms up GStar still retains similar flexibility.




Benefits:

Most comfortable and enhanced grip

GREAT for cold weather play

Ideal for those with less grip strength

Same durability of Star plastic with added flexibility.

Retains flight characteristics longer than DX or Pro Plastics

Looks amazing

Halo Star 

Halo Star is a decorative blend of Star plastic featuring a colorful halo design where the rim is a distinctly different color than the flight plate of the disc. Halo Star plastic is known to be more slightly more over-stable than Star plastic.

Champion












Metal Flake





Blizzard Champion

Our Champion line is produced with a hi-tech plastic that provides outstanding performance and durability. Champion discs are distinguished by a beautiful clear appearance. Designed for professional players, Champion line discs are usually a little firmer and more stable than the same model in other plastics. Whether used in heavily wooded situations, or on extremely rugged courses, our Champion line plastic will continue to perform predictably and avoid damage better than any other plastic. Most Champion line discs are available for custom hot stamping.





The Metal Flake line is based on our Champion line with the addition of sparkling metal flakes. These discs also retain their original flight characteristics for an extended period of time and look great doing it.




Our Blizzard technology incorporates thousands of microbubbles into our durable Champion plastic. This results in high speed, premium plastic drivers in weights all the way down to 130 grams! Blizzard discs discs fly with almost the same stability as the equivalent model 20 grams heavier. Most models lighter than 135 grams float in water.




Benefits:

High quality plastic which provides superior durability and reliable performance

Firmness suitable for the increased throwing speeds of professional players

Retains flight characteristics longer than DX or Pro Plastics

Some models available with colorful and unique I-Dye designs

Certain models are available in special glow-in-the-dark plastic

Most models available for Custom Hot-Stamping

XT

XT is a tough plastic blend that was originally developed for the Nova and Atlas (XT Overmold MSRP: $16.99). It worked so well, it spread to other models. Grip is off the charts and durability is almost as good as our premium plastics. XT is firmer than R-Pro, and less firm than KC Pro with a unique grip that feels great in the hand, and inspires confidence when throwing.




Benefits:

Firm and durable

Amazing all weather grip

Affordable and great value

Driver Pro

Our Driver Pro line is manufactured using a unique blend of plastics. These quality discs offer increased durability over our DX and other Pro plastics as well as provide an enhanced grip when compared to the Champion plastic. Our Driver Pro line discs provide additional glide when compared to all our other disc lines and are more affordable than our premium Champion or Star line discs. Most models are available for custom hot stamping.




Benefits:

Provides an improved grip over our Champion line plastic

More durable and retains flight characteristics longer than our DX or R-Pro lines

More economic than our Champion or Star line Plastic

Increased glide

Many models available with colorful I-Dye designs

KC Pro

Our KC Pro plastic was developed for the demanding needs of 12 time World Disc Golf Champion Ken Climo. This plastic is the favorite putter and midrange plastic of many pros who would also like to be world champions.




Benefits:

Provides a firm grip that world champions prefer

The grip improves with use

More durable and retains flight characteristics longer than our DX plastic

More economic than our Champion or Star line Plastic

R-Pro








JK Pro

Our R-Pro line is softer than most Pro blends. R-Pro discs have the best all-condition grip and an improved feel. R-Pro has great flexibility which makes it the best choice for putt & approach in cold/wet weather. The R-Pro Boss currently holds the Distance World Record at 1108 feet (338 M).




Our JK Pro plastic was developed for 5 time world champion Juliana Korver. A precursor to R-Pro plastic, JK Pro plastic is also a soft, grippy blend.




Benefits:

Provides a terrific soft all weather

The grip improves with use

More durable and retains flight characteristics longer than our DX plastic

More economic than our Champion or Star line plastic

DX

Our DX line offers the widest selection of models and weights. These discs are affordably priced and provide an excellent grip in a variety of weather situations. DX discs wear in with usage and over time will eventually take on new and varied flight characteristics. Many top pros carry several DX discs of their favorite models to provide different flight patterns for different situations. Some DX discs are available in glow-in-the-dark. Most models are available for custom hot stamping.




Benefits:

Provides superior grip that performs well in most weather situations

Wears in progressively to provide new and varied flight characteristics

Most economically priced of our plastic lines

Offered in the widest range of weights and disc models

Certain models are available in special glow-in-the-dark plastic

Many models are available for Custom Hot Stamping