Sold Out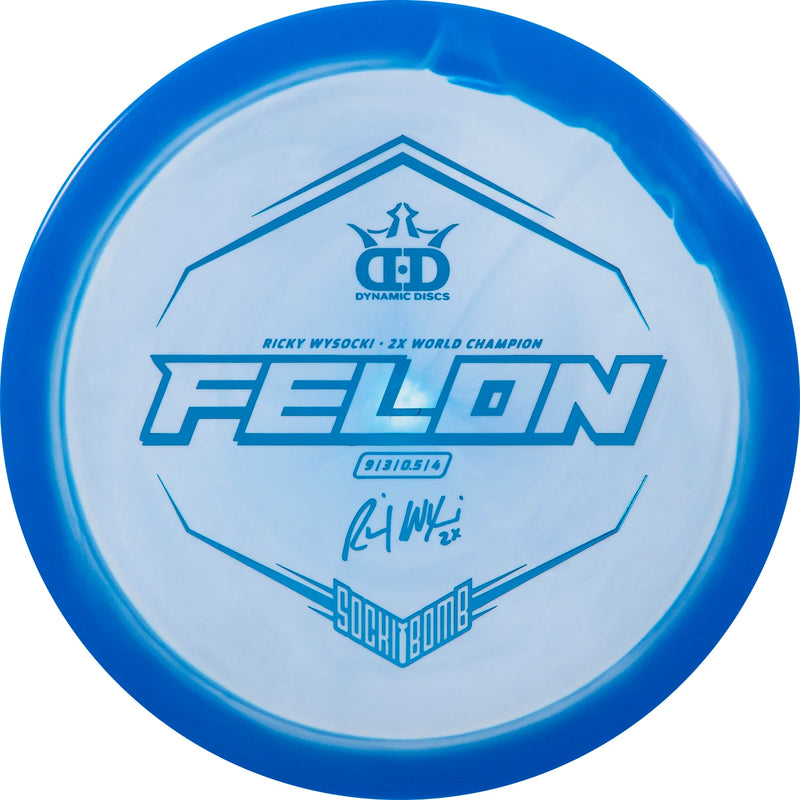 Dynamic Discs Fuzion Orbit Felon Ricky Wysocki Sockibomb
Tax included. Shipping calculated at checkout.
9

Speed

3

Glide

0.5

Turn

4

Fade
Purchases of this Fuzion Orbit Felon directly benefit Ricky's tour.

In the same vein as our game-changing Escape, the Felon is a fairway driver that feels great in your hand and comes out easy. Crafted in response to the unforgiving Kansas winds, the Felon is the wind-fighting fairway driver that your bag is calling for. It will continue to sail, without turning over, despite the headwind that is challenging your confidence. When the wind is down, it has an incredibly predictable hyzer finish. When you are facing a low ceiling shot where you need good glide and a strong finish the Felon is your answer. You asked and Dynamic Discs has delivered.

Speed: 9 Glide: 3 Turn: 0.5 Fade: 4

About Fuzion:
Fuzion combines the durability of Lucid with an advanced polymer to form a non-transparent blend of plastic. This plastic also provides players with additional grip.

Dynamic Discs Team Member Review
"I wanted a felon variation that had more glide and could be thrown for a wide variety of shots. It's the type of disc that can handle power and finesse and flys well on all angles."
- Ricky Wysocki

We do our best to accurately describe the disc's colour in the drop-down menu. Photos of the discs are an example but may not be the exact colour in stock.