Sold Out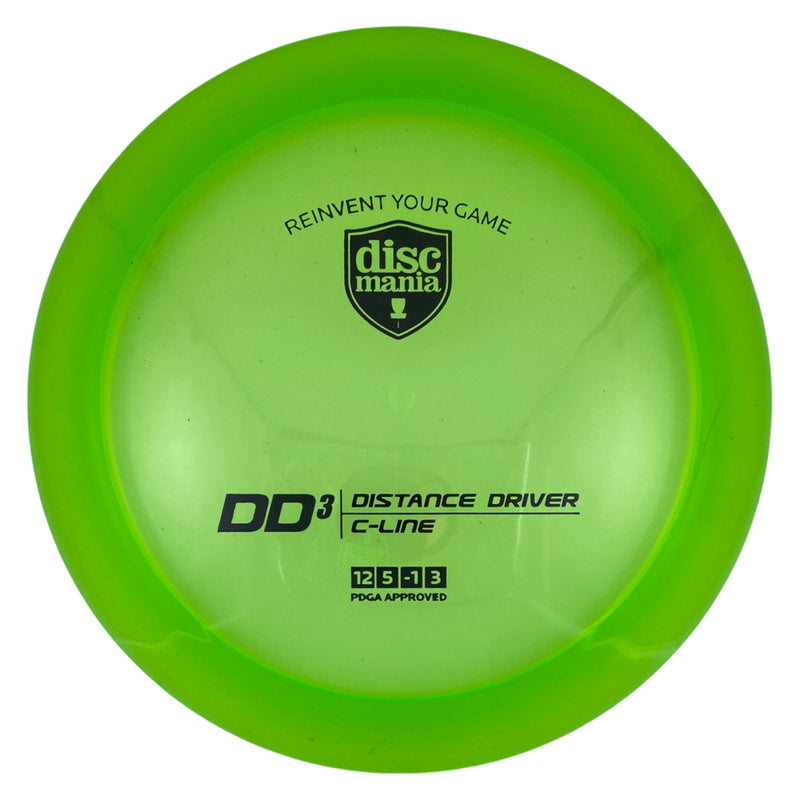 Discmania DD3 - C-Line
Tax included. Shipping calculated at checkout.
12

Speed

5

Glide

-1

Turn

3

Fade
Pickup available at Hamilton Hill Warehouse usually ready in 24 hours
Need something that goes for the max distance without compromising control? The DD3 is the high-speed go-to choice of most modern day Discmania throwers. If you're past the beginner phase in your disc golf game, chances are this disc will push your game to another level.
The DD3 is the distance driver that has been optimized to bring massive glide and distance to those who have the power. It's the single most used pro-level distance driver in our line up, a true go-to for advanced players and top level Pro's alike.

The DD3 is a stable to overstable distance driver that offers a ton of glide for players who are able to get this disc up to speed. The DD3 crushes down the fairway with enough stability to handle pro level power without turning over and enough glide to give the disc a full flight. The stability of the DD3 also makes it an excellent choice for anyone who is looking to get the most out of their forehands.

The DD3 is perfect for pro players who are looking to expand the limits of what a distance driver can do, or any player looking for a reliably stable driver in their bag.
Eagle McMahon says:
"The DD3 reinvented the way I think about distance shots. Whether I'm throwing backhand or sidearm, the DD3 gives me confidence looking down the fairway. The mold offers an incredible culmination of speed, glide, and semi-overstable stability. It has helped me add significant range to my distance game without sacrificing control. I would recommend the DD3 to a wide range of skill levels since there are many different uses for the disc."
Speed: 12 Glide: 5 Turn: -1 Fade: 3
DISCMANIA ORIGINALS PLASTIC:
| | |
| --- | --- |
| D-LINE | Lots of grip even in wet conditions. The most affordable plastic in our line. Soft but firm feel – ideal for putters. Fine-tuneable flight characteristics thanks to gradual wear. |
| P-LINE | Great feel and added glide. Easily one of the grippiest plastic type out there. Reveals new features in your disc when worn down. Typically a bit more understable plastic type comparing to S- and C-line. Please note: P-line putters (P1 & P2) have their own blend of P-line plastic. The P-line P1 is features a soft & grippy blend of plastic, while the P-line P2 comes with very firm plastic blend that many Pro players prefer for their putters. |
| C-LINE | Our most durable plastic – these discs wear down very slowly. C-Line discs retain original flight characteristics for an extended period of time. Whether used in heavily wooded situations, or on extremely rugged courses, the C-Line plastic will continue to perform predictably and avoid damage better than any other plastic. Good grip and showstopper see-through look. Typically the most stable blend of plastic in our line. |
| S-LINE | Excellent grip in all weather conditions with great durability. This plastic ages well, which means that your disc doesn't change drastically in it's flight behaviour after a couple of collisions with trees. Recommended plastic for drivers. |
| X-LINE | X-line is absolutely the best choice of plastic for wet and cold weather conditions. This plastic blend has a very organic feel and probably the best grip out of any plastic material. |
| G-LINE | The G-line is an all-new plastic blend that will be available with selected models starting season 2014. It's a modified version of our popular S-line version that provides great grip, durability and shock-absorbance. It's a flexy plastic blend with an unique look and added glide compared to the S-line plastic. |
| BLIZZARD C-LINE | Blizzard C-line is an unique blend of our durable C-line material that employs microscopic air bubbles inside the rim of the disc, allowing the production of high speed drivers in very low weights. With lower weights you can gain more distance to your throw with less effort. The lighter the disc is, the more bubbles go inside the rim, so the very lightest of weights don't necessarily endure collision as well as higher weights. Discs under 139grams float in water. |