Sold Out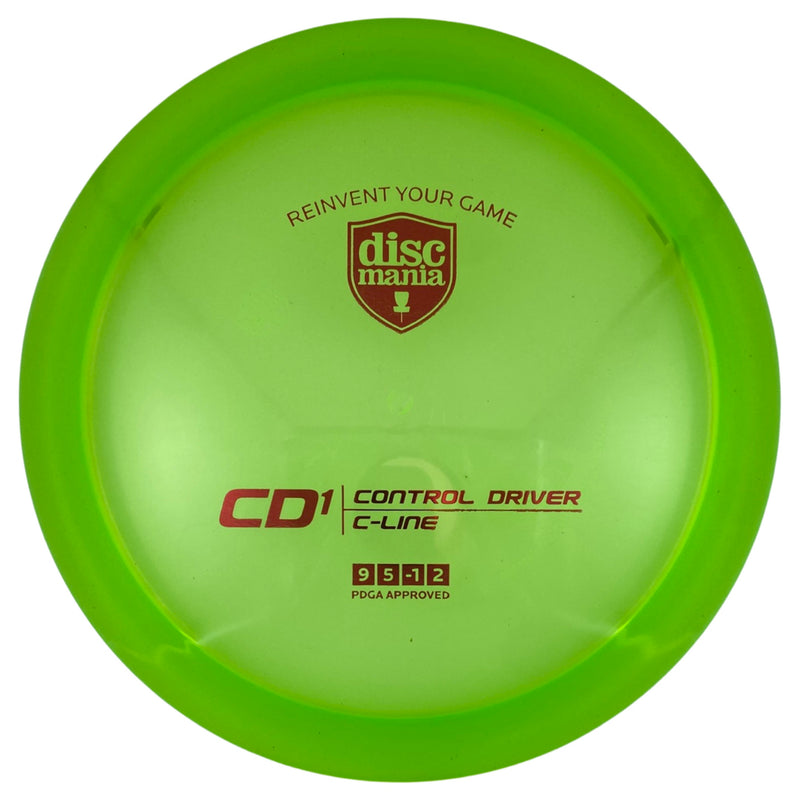 Discmania CD1 - C-line
Tax included. Shipping calculated at checkout.
9

Speed

5

Glide

-1

Turn

2

Fade
Pickup available at Hamilton Hill Warehouse usually ready in 24 hours
CD1 is back with a reinvented name in our new and improved C-Line plastic. Formerly known as CD2, we've brought the mold back to the spotlight based on popular demand. The letters "CD" in the name stand for Control Driver, putting the player in the driver's seat and allowing you full control to manipulate and style the disc exactly how you want it to. CD1 makes for a great first distance driver for less powerful or skilled players and an incredibly useful disc for experts, too. Those with a bit more arm speed will find that this disc often will compete for distance with even their fastest drivers, yet the execution feels more effortless and controlled.
Here's what Eagle had to say about the CD1: 
"The CD1 is great for all different skill-levels and it feels incredibly comfortable in the hand. This disc is one of the best teachers for a forehand as well. It is very symmetrical and has a really good amount of torque resistance, so you're able to throw it pretty hard and you get these really straight lines with very soft finishes."
CD1 handles just about any wind condition with ease but is most well suited for tailwinds and calmer weather. Players will notice that the CD1 has the tendency to fly similarly to a well seasoned PD, giving you the right amount of glide and shot shaping options but will always maintain enough stability to end with a smooth low speed fade in the end. If you only had one disc to play a round with, this disc would be an excellent choice.
Good for: Backhand, forehand, tailwind, calm weather, amateur distance driver, expert fairway/distance driver, sneaky sneaky bombs
Compares to: Longer FD, well-seasoned PD
Speed: 9 Glide: 5 Turn: 1 Fade:2
DISCMANIA ORIGINALS PLASTIC:
| | |
| --- | --- |
| D-LINE | Lots of grip even in wet conditions. The most affordable plastic in our line. Soft but firm feel – ideal for putters. Fine-tuneable flight characteristics thanks to gradual wear. |
| P-LINE | Great feel and added glide. Easily one of the grippiest plastic type out there. Reveals new features in your disc when worn down. Typically a bit more understable plastic type comparing to S- and C-line. Please note: P-line putters (P1 & P2) have their own blend of P-line plastic. The P-line P1 is features a soft & grippy blend of plastic, while the P-line P2 comes with very firm plastic blend that many Pro players prefer for their putters. |
| C-LINE | Our most durable plastic – these discs wear down very slowly. C-Line discs retain original flight characteristics for an extended period of time. Whether used in heavily wooded situations, or on extremely rugged courses, the C-Line plastic will continue to perform predictably and avoid damage better than any other plastic. Good grip and showstopper see-through look. Typically the most stable blend of plastic in our line. |
| S-LINE | Excellent grip in all weather conditions with great durability. This plastic ages well, which means that your disc doesn't change drastically in it's flight behaviour after a couple of collisions with trees. Recommended plastic for drivers. |
| X-LINE | X-line is absolutely the best choice of plastic for wet and cold weather conditions. This plastic blend has a very organic feel and probably the best grip out of any plastic material. |
| G-LINE | The G-line is an all-new plastic blend that will be available with selected models starting season 2014. It's a modified version of our popular S-line version that provides great grip, durability and shock-absorbance. It's a flexy plastic blend with an unique look and added glide compared to the S-line plastic. |
| BLIZZARD C-LINE | Blizzard C-line is an unique blend of our durable C-line material that employs microscopic air bubbles inside the rim of the disc, allowing the production of high speed drivers in very low weights. With lower weights you can gain more distance to your throw with less effort. The lighter the disc is, the more bubbles go inside the rim, so the very lightest of weights don't necessarily endure collision as well as higher weights. Discs under 139grams float in water. |