Sold Out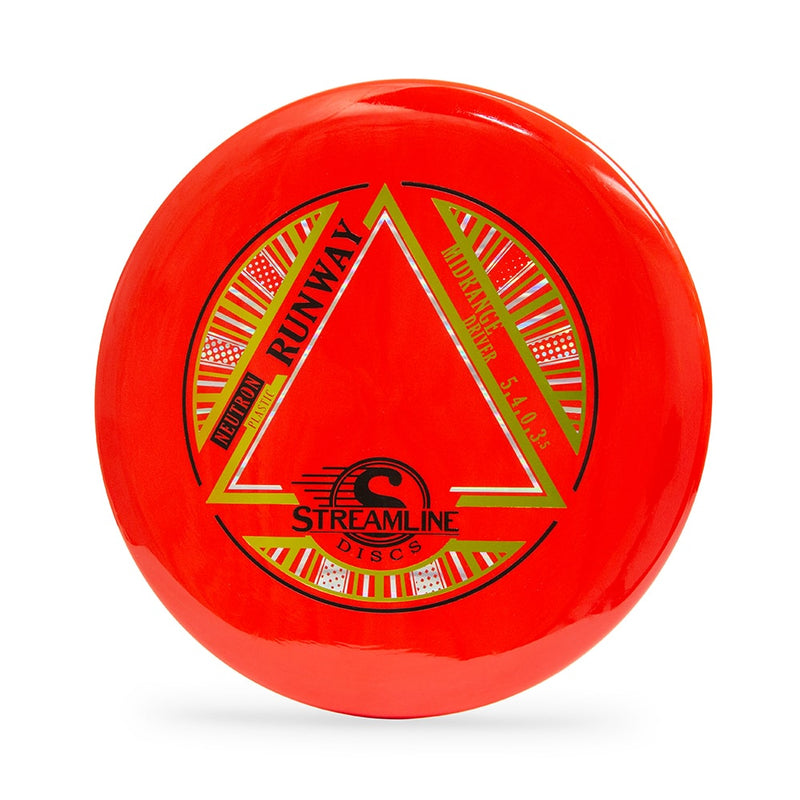 Copy of Streamline Runway - Neutron
Tax included. Shipping calculated at checkout.
5

Speed

4

Glide

0

Turn

3.5

Fade
Pickup available at Hamilton Hill Warehouse usually ready in 24 hours
The Runway is an overstable midrange driver.
The Runway can handle powerful throws with pinpoint accuracy. In high wind situations, this midrange will hold straight lines with a pronounced finishing fade. Power throwers will find a control midrange that has the stability to fight out of turnover and forehand lines. The Runway offers more glide than the popular MVP Deflector due to its less aggressive fade at the end of flight. The Runway will keep its stability while gradually breaking in to a trusted stable midrange round after round.
Speed: 5 Glide: 4 Turn: 0 Fade: 3.5
SPECIFICATIONS
CLASS
13mm Midrange Drivers
WEIGHTS
170g - 179g
DIAMETER
21.5cm
RIM WIDTH
13mm
FLIGHT PATH POWERED BY INBOUNDS
Runway Dimensions:
Diameter: 21.5 cm
Height: 1.7 cm
Rim Depth: 1.4 cm
Rim Width: 1.4 cm
Max Weight: 178.00 g
Additional Information:
Speed: 5.0
Glide: 4.0
Turn: 0.0
Fade: 3.5
Primary Use: Mid Range
Stability: Very Overstable
Recommended Skill Level: Advanced, Intermediate
Plastic grade(s): Premium
Beaded
Plastic Types:
Neutron

Our Most Popular Material

Flagship blend offering a premium look and feel

Widest selection of bright opaque colours

Shares great durability characteristics of Proton

Easy-to-find colours in any given terrain

Cosmic Neutron

Premium Quality Neutron with Cosmic Swirl

Premium colour enhanced Neutron blend

Plethora of bright colour swirls

Shares durability with Neutron and Proton

Unique colour blends are great for custom stamping

Proton

Our Premium Look and Durability Material

High durability for a long consistent life

Designed to withstand the roughest conditions

Transparent candy colours

Also available in soft flexibility for putters

Plasma

Advanced Disc Golf Polymer

Metallic sheen on core plastic

Semi-gummy, grippy flex polymer

Highly durable premium blend

"Colour-shift" tones in select colour options

Electron

Our High-Tech Baseline Material

Tactile boutique blends for superb grip

Designed to wear slowly with use

Added glide and neutral flight with wear

Also available in soft flexibility for putters

Cosmic Electron

Cosmic Electron Plastic

The same High-Tech Baseline Material found in Electron with unique Cosmic Ray patterns.

Cosmic Ray patterns with multi-tone colours

Tactile boutique blends for superb grip

Added glide and neutral flight with wear

Available in Soft, Medium, and Firm flexibility for putters