Sold Out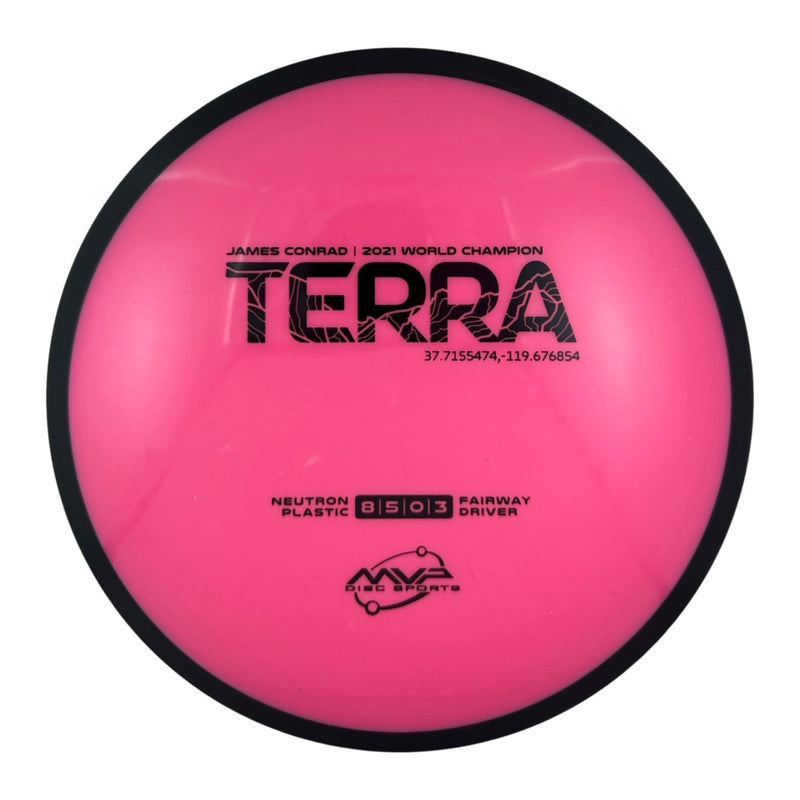 MVP Terra - Neutron James Conrad 2021 World Champion
Tax included. Shipping calculated at checkout.
8

Speed

5

Glide

0

Turn

3

Fade
Pickup available at Hamilton Hill Warehouse usually ready in 24 hours
The rhythmic crash of 6 legs cutting through the field would almost be soothing if you didn't know what it belonged to. As the final blades of grass part — steel yourself, warrior — the Ant Queen is here! Mike Inscho has done it again! He's delivered on a stunning triple-foil rendition of the prelude to what is sure to be a battle not soon forgotten. Pairing the reliable flight of the Terra with art by Mike Inscho is an absolute royal flush for GYROnauts around the world — this SE is sure to be a conversation starter whether it's in your bag or on your wall. Commemorate the release of the first driver in the James Conrad Line, grab the Neutron Terra SE today!
As the next disc in the James Conrad Line, the Terra is here to instill confidence, reliability, and control into your fairway driver game. With flight numbers of 8 | 5 | 0 | 3, the Terra provides the most important thing in disc golf every time you throw it: predictability. You can depend on the Terra to shape lines from all angles — with easily ranged hyzer approaches, straight-to-fade flat drives, and flight extending s-curves from anhyzer all possible. Step onto the tee pad with the confidence of a World Champion.
Speed: 8 Glide: 5 Turn: 0 Fade: 3
SPECIFICATIONS
CLASS
18mm Fairway Drivers
WEIGHTS
170 - 175g
DIAMETER
21.2cm
RIM WIDTH

12mm
The Terra's flight path is characterized by an initial straight GYRO® push followed by a dependably overstable finish.
Being a true 0 turn fairway driver, the Terra will hold the angle of release before its natural overstability kicks in. High powered players will be able to delay the Terra's fade from flat, throw easily ranged hyzer placement shots, or generate flight-extending turnovers from anhyzer.
Lower power players will appreciate the added glide and lower speed requirement as compared to the Fireball or Motion, making it a more workable overstable fairway driver for all arm speeds. Expect the same flights that higher power players get, only shorter.
The Terra was designed by MVP and James Conrad to thrive as an overstable control fairway driver — excelling at accurate, dependable placement shots.